Lakewood Stamped Concrete Driveway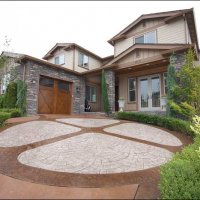 Concrete has long been a popular material for constructing exterior surfaces like driveways, sidewalks and walkways. It is still a widely used building material because of its incredible strength, resilience and durability.
However, the plain dull gray look of concrete results in a driveway can pull down the curb appeal of a property.RC Concrete offers an excellent solution: installation of a stamped concrete driveway.
This is a decorative surface that combines all the goodness of concrete with a visually striking colorful pattern that is etched on it. Get in touch with us if you want to give an artistic touch to your home exteriors with stamped concrete driveway installation in Lakewood, WA.
We are highly experienced concrete driveway contractors who have been serving the community since 1989. You can count on us for:
Amazing decorative concrete driveway designs
Seamless driveway installation
Projects finished on time and within budget
Call us today to discuss your stamped concrete driveway installation project in Lakewood.
Lakewood Concrete Driveway Installation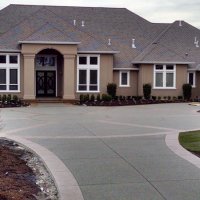 Professional installation is essential for a stamped concrete driveway to deliver the best in appearance, functionality, durability and reliability. If you want optimal returns from your investment in decorative concrete driveway installation, choose the driveway contractors with great care.
Give us a chance to serve you! We put our extensive knowledge, skills and experience into your stamped concrete driveway installation job in Lakewood. The result is a sleek, smooth, attractive and hard-wearing surface that you can use without any hassles for years to come.
We also go all out to ensure that the decorative concrete driveway installation in your home is done:
Seamlessly
With minimal waste
In the shortest time possible
Lakewood Driveway Contractors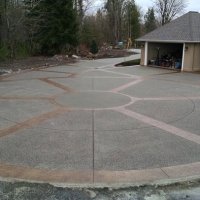 Unmatched expertise and a genuine customer-centric attitude are what make us one of the best stamped concrete driveway contractors in the Lakewood area. We love what we do and work hard to deliver results that make our customers do the same!
Choosing us for concrete driveway installation brings you all the satisfaction that comes from working with residential driveway contractors that:
Specialize in decorative concrete work
Employ some of the finest technicians in the trade
Enjoy a stellar reputation across the community
Are licensed and bonded
When you are not willing to settle even for the second-best local concrete driveway contractors, come to us.
Make RC Concrete your first call when you are looking around for experienced concrete driveway contractors serving the Lakewood area. Dial (253) 677-4136.